Turning
Kingston Turning
5 Heavy Duty Model Series Manual Lathes
Spindle Bore From
2.25″ to 14.8″
Swing over the bed from
17″ to 40″
Spindle Nose
D1-6 to A2-20
Distance between Centers
43″ to 280″
DRO, Follow Rests, Steady Rests, 2 Speed Tailstock Drives, Front and Rear Chuck Guards, 4 Way Rapid Traverse
---
Hankook Vertical and Horizontal Lathes
Horizontal CNC Lathes
Hankook America Corp. is your CNC Horizontal Lathe Supplier. From 12″ chuck teach lathes up to 118″ turning with 100 feet between centers and 150-ton part capacity.
The Protec N Series of "semi-CNC or "teach" lathes are available up to 315″ between centers and spindle bores from 4″ up to 21.6″ through holes with front and rear chuck options.
The Dynaturn Series offers wide bases with 3 bed-ways and up to 102 inch swing and 394 inches between centers.
The Dynaturn R and R-Series are lathes specially designed for steel roll turning and can be ordered with up to 118″ turning capacity, 100 feet between centers, 150-ton roll weight, and available with various options including Grinding, Milling, and a unique Roll Loading System developed by Hankook which prevents spindle and tailstock damage when loading large rolls. These lathes are used by many of the largest Steel producers in the world.
---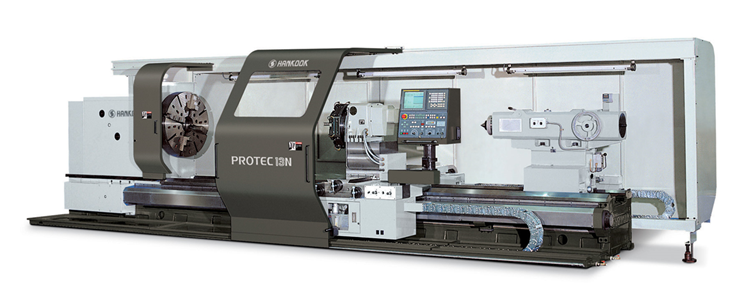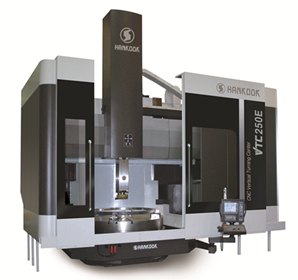 Vertical CNC Turning
Hankook America supplies VTL's from 21″ chucks to 30 foot tables with milling and C-axis or with only turning. Parts up to 660,000 LBS can be machined accurately up to 13 feet high.
Hankook VTB/VTC Series offers tables from 40 inch up to 98″. These wrap-around column machines have full cast bases unlike the fabricated bases of our competitors which barely support the table of the machine. The rigidity of the Hankook VTLs is able to handle the roughest cutting requirements.
The VTB/VTC Double Column machines start at 98 inch tables and go up to 30 feet diameter and can handle all the secondary machining usually requiring moving a part to another large machine. They are available with or without milling, C-axis, Angle Attachments, Y-axis, and optional extra height cross-rails for very high parts.
---

Acer Machine Tools
Standard and Oil Contry Engin Lathes
ATL Teach Function CNC Flat Bed Lathes
ACER Group incorporated in 1985 with two USA facilities located in California (Springwood Industrial) and New Jersey (Klim Industrial), along with a factory in Taiwan. We are the foremost leading manufacturer from Taiwan with full product line of vertical machine centers, CNC bed/knee type mills, precision manual mills, surface grinders and engine lathes. Our USA California and New Jersey office maintain an extensive inventory of machines and replacement parts. Customers can obtain quick delivery thru our select distribution network. Also, factory trained technicians can provide immediate telephone and field support upon your request. ACER Group is committed to providing total ACER service and support locally for total customer satisfaction.
ACER Group pursues excellence in four areas: Quality, Price, Service, and Availability. Our machines are superior in quality. The prices we offer you are competitive. We offer optimal 4 support for our products and we keep the machine and parts for immediate delivery. When we say it, we mean it. For more than 20 years, we have been providing over 20,000 users the satisfaction for running the machine day in and day out. We have become the backbone of our manufacturing and we are determined to serve you for all your needs.
2- Axis Flat Bed Lathes
Fagor Teach Control with Hand Wheels on some models
Fanuc Controls OiTD
Up to 50″ Swing over the Bed
Up to 7M between Centers
35 HP spindles
Twin Tool Stations (auto 4 post block and V8 Turret)
Full Splash Guards